TPU elastic non-woven fabric and interlining with hot-melt adhesive dots
Details
Payment & Shipping
Details
Brand: KETAEBO
Certification : SGS RoHS 2.0
Model: R30, R30-4012, R60, R60-4016
Place of Origin: China
Payment & Shipping
Lowest wholesale price (square meters)
Four-way elastic TPU non-woven fabric
The main component of the four-sided elastic non-woven fabric is polyurethane, the English abbreviation of which is TPU, because its raw material can be naturally degraded over time, and the skin can be directly contacted without irritation. It is an environmentally friendly non-woven material. There are many names for TPU elastic non-woven fabrics, such as comfortable elastic fabrics, skin-friendly non-woven fabrics, etc. Due to its unique elastic properties, TPU elastic non-woven fabrics are not available in other polyester and nylon non-woven fabrics. It is used for many special purposes, such as medical consumables, yoga pants waist position, etc., but the cost of raw materials and production processes is relatively high, so it is not widely used in the field of masks.
TPU elastic non-woven products generally have a double-layer structure when they leave the factory, one layer of main material (TPU elastic non-woven fabric), and one layer of substrate (polyester non-woven fabric, non-elastic). There are two main functions of the substrate: one is to assist the production of products, and the other is to facilitate cutting. Because some customers need to cut the material into a special shape when using the product, the non-elastic polyester non-woven substrate can just prevent the material from running around and out of shape during cutting.
Elastic nonwoven interlining with hot melt dot adhesive
TPU elastic non-woven fabric itself does not have glue, but if you want to attach it to a certain fabric, you need to use elastic non-woven fabric products with hot melt adhesive points, as shown in the picture below.
This product is dispensed on one side of the elastic non-woven fabric. The glue used is a hot melt adhesive material, which is also an environmentally friendly adhesive, so you don't have to worry about its environmental protection, and it can pass Rohs, VOC and other standard tests exported to Europe and the United States. Coating in the form of dots also retains the softness of the product after lamination to the greatest extent, so that it does not feel so hard, and uses a hot-melt adhesive type dedicated to elastic non-woven fabrics to ensure adhesive adhesion. The peel strength usually breaks the non-woven fabric.
The elastic non-woven fabric with hot-melt glue still retains the non-stretch backing, which is convenient for cutting before laminating.
Note
Depending on the equipment used, the table may be displayed incompletely. It is draggable, you can move it left and right to view more information
Product name

Skin-friendly elastic non-woven fabric

Ingredient

TPU (Polyurethane)

With hot glue dots

with or without

Color

white, black, skin color or customized

Structure

Elastic non-woven fabric + polyester non-woven fabric backing

Commonly used weight specifications(gms)

30/60

Customizable weight range(gms)

20-80

Commonly used wide format(mm)

1600

Customizable wide range(mm)

5-1600

Common length of each roll(meters)

500

Customizable length of each roll(meters)

0.1-1000

Use parameters of hot glue dots

Use temperature(℃)

135-160

Ironing pressure(MPa)

0.2

Ironing time(s)

10-30
Elastic non-woven fabrics without hot-melt adhesive points are usually cut into sheets, which are sealed with high-frequency equipment to make products of specific shapes, such as disposable head masks for medical operations; if bonding is required, glue coating can be used. The compound machine performs the lamination of the whole roll and then peels off the polyester backing material attached to the back.
The elastic non-woven fabric with hot-melt adhesive points can be cut into shapes according to requirements. The bonding method is to align the side of the elastic non-woven fabric with hot-melt adhesive points downwards with the fabric to be bonded, and use an iron, or Other pressing equipment performs hot pressing on one side of the polyester non-woven substrate, and the heat conduction to the hot melt adhesive point will cause it to melt and bond to the underlying fabric, that is, the laminating process is completed. Wait for the material to cool and peel off the backing polyester backing. See the video below.
Main purpose - attached to the back of the fabric for reinforcement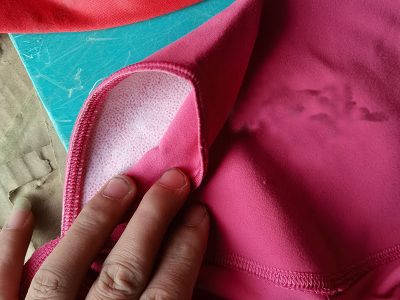 The main purpose of elastic non-woven fabric is to attach it to the back of the fabric for reinforcement. Compared with other interlining fabrics, this product is more elastic, which can reduce the loss of elasticity of the fabric after lamination. Moreover, it has good skin affinity and comfortable hand feeling and is mostly used for yoga pants, Barbie pants waist, etc.
Main purpose - waterproof
The second purpose of elastic non-woven fabric is to have a certain effect of blocking water. When it is bonded to one side of the fabric or used as an interlayer, it can block the penetration of water molecules and play a certain waterproof effect. Customers who have this need usually recommend choosing elastic non-woven fabrics with a higher grammage, such as 60 grams per square meter or even higher, so that the barrier effect will be more obvious. However, it should be noted that the water-blocking effect of elastic non-woven fabrics will be significantly reduced under certain water pressure conditions.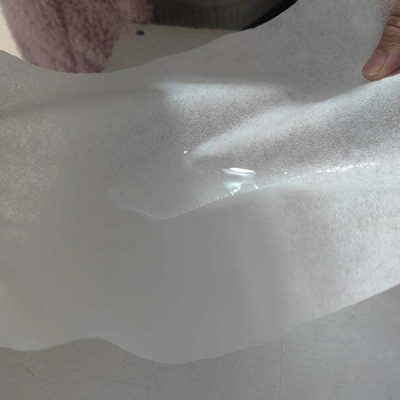 Weight and Width Specifications
The common weight per square meter of elastic non-woven fabric is 30 grams and 60 grams, and other weights can also be customized. The weight is the net weight of the elastic fabric, excluding the weight of the polyester substrate and glue. Lightweight stretch nonwoven for extra softness.
Stretch non-wovens with or without hot-melt adhesive dots, available in custom lengths and widths per roll. Usually, the width of 1.6 meters (1600mm) is more common, and it can also be cut narrow according to customer needs, such as 5cm, 7cm, etc.; the maximum length can be customized to a roll of 2000 meters, usually 1000 meters per roll. The elastic non-woven fabric with hot-melt glue points will be larger in volume, the number of meters per roll will be less, and the size of each roll will be 500 meters long.
The colours of elastic non-woven fabrics are white, black, and skin colour (beige). White is the most common. Usually, the quantity in stock is more than other colours, and the cost of black and skin colour is slightly higher than that of white. Of course, we can also customize other colours according to the needs, but the minimum order quantity is relatively high.